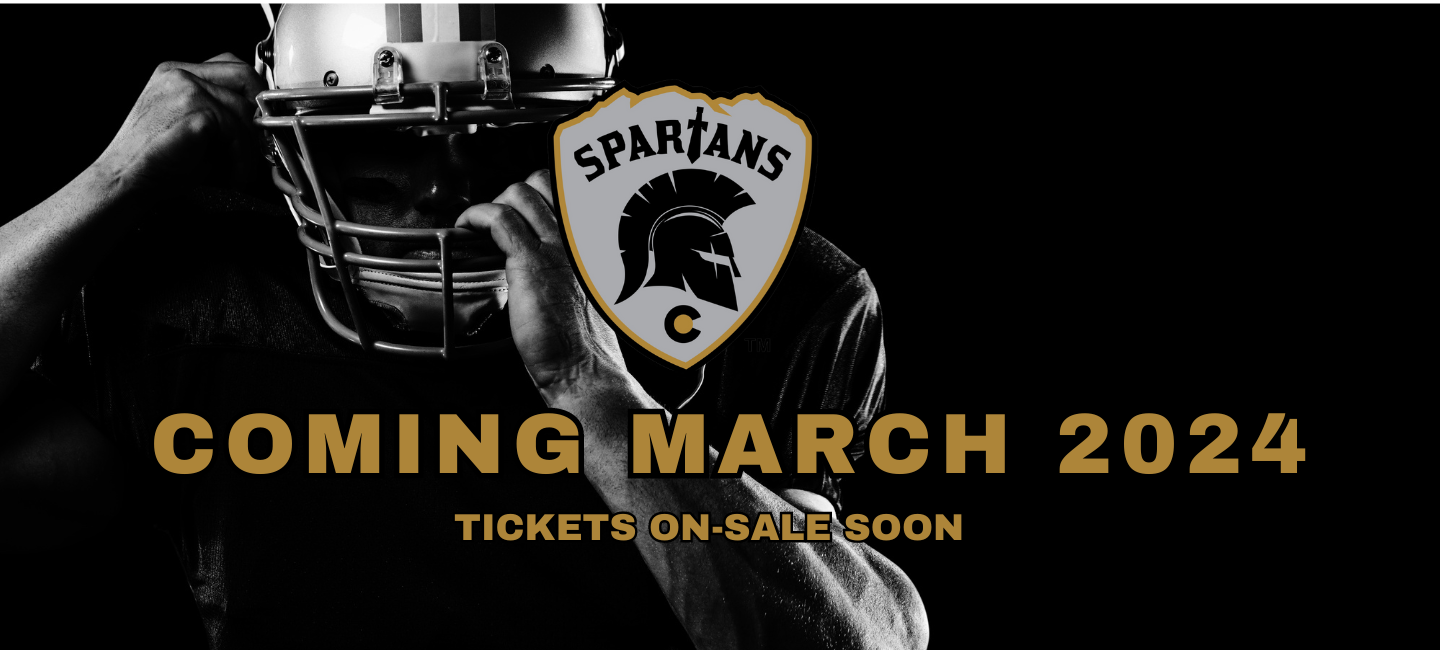 Colorado Spartans Announce 2024 Home Schedule
(Loveland, CO) – The Colorado Spartans and the National Arena League have announced the full 2024 schedule for the Colorado Spartans inaugural year at Blue Arena in Loveland, Colorado. The Colorado Spartans, who are being led by Owner and CEO Tony Thompson will have their home-opener on Saturday, March 23 as they take on the Topeka Tropics.
The NAL launched its inaugural season in 2017. Rapidly growing, the NAL stretches coast to coast with eight teams in five states playing throughout the nation. The 2024 season will begin in the spring and will reach its end in the summer. There will be thirteen weeks of back-to-back action from the Carolina Cobras, Colorado Spartans, Idaho Horsemen, North Texas Bulls, Oklahoma Flying Aces, Omaha Beef, Sioux City Bandits, and Topeka Tropics.
2024 Colorado Spartans Home Schedule
Saturday, March 23 -Colorado Spartans vs Topeka Tropics
Friday, April 19 - Colorado Spartans vs Idaho Horsemen
Friday, April 26 – Colorado Spartans vs Sioux City Bandits
Friday, May 17 - Colorado Spartans vs North Texas Bulls
Saturday, June 1 - Colorado Spartans vs Idaho Horsemen
Saturday, June 15 - Colorado Spartans vs Carolina Cobras
About Blue Arena
The OVG360-managed Blue Area at The Ranch Events Complex, located in Loveland, Colorado, is a 6,800 seat multi-purpose venue, which opened in September 2003, and is home to the Colorado Eagles of the American Hockey League. This multi-purpose facility can host concert settings in various capacities, hockey, basketball, indoor football, family shows, rodeos, trade shows and flexible set-ups to accommodate any event. Blue Arena, less than an hour drive from Denver and Cheyenne, Wyoming, has become the focal point for sports and entertainment in Northern Colorado.
About the National Arena League
The National Arena League was founded in 2016 and hosted its inaugural season in 2017 as the premier league in arena football. For more information about the NAL visit www.nationalarenaleague.com, facebook.com/nationalarenaleauge, twitter.com/NALfootball, Instagram.com/nationalarenaleague.
###