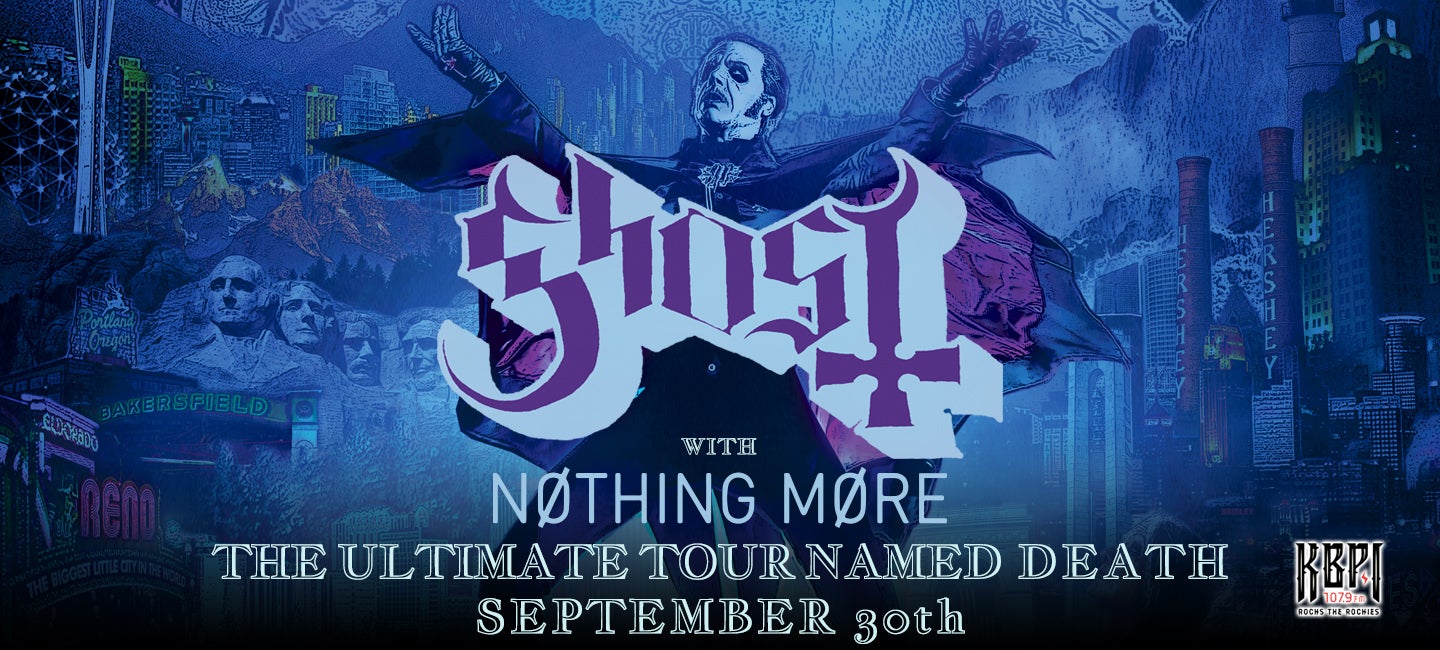 GHOST
The Ultimate Tour Named Death
GHOST
The Ultimate Tour Named Death
GHOST
The Ultimate Tour Named Death
Event Information
The Swedish-born Tobias Forge, who has been referred to as "the Andrew Lloyd Webber of rock," is Ghost's creative force, singer, songwriter, musician, and architect of the elaborate storylines that are woven through the band's four full-length studio albums, EPs, music videos, webisodes, and live shows, all of which advance the Ghost storyline. Forge grew up listening to a wide array of 70s and 80s rock - Alice Cooper, Journey, Kansas, Boston, Black Sabbath, Jefferson Starship, Iron Maiden, and Foreigner. He's a hardcore music junkie; at home in Sweden, he has a most impressive collection of vinyl, cassettes, CDs, and VHS tapes, and when on tour, he regularly arranges for visits to local record haunts and ships back even more treasures. He plays guitar, bass, drums, keyboards, and kazoo. Ghost's current album, Prequelle, is loosely based on The Black Plague of 14th century Europe, a metaphor Forge hopes will apply to the societal ills of today.
Ghost's music began as being much heavier, harder and "more metal," but over the band's recent history, their songs have evolved to embrace a more catchy, rock/pop sound. Five of the band's songs have hit Billboard's Top 5 Rock chart - "Cirice" claimed the #4 spot in 2015, "From The Pinnacle to the Pit" went to #5 in 2016, and "Square Hammer" (2017), "Rats" (2018), and "Dance Macabre" (2018) all held the #1 spot on the Billboard Mainstream Rock Songs chart and on the Mediabase Active Rock chart. Ghost's music retains its rock edge as well as its dark lyrical themes like The Black Plague, the Antichrist, the Inquisition, avarice, and the Apocalypse. Ghost has received two Grammy nominations: "Best Metal Performance" in 2016 for "Rats," which they won, and "Best Rock Album" in 2019.
Cardinal Copia - Photo Op Package - $325

Limited To 100 Packages

Package Includes:

(1) General Admission Ticket
Early Entry
Exclusive Pre-Show Photograph with Cardinal Copia
Access to the "Veneration of Relics"
Glossy 8 x 10 Photo; Autographed
Ghost Cinch Bag
Exclusive Pair of Ghost Woven Socks
Ghost Mystery Merchandise Item
Official Photo Op VIP Laminate
On-Site Guided Host

Very Limited Availability

Ultimate Tour Named Death Package - $149

Limited Availability

(1) Premium Reserved or General Admission Ticket
Priorty Entry Into The Venue
Exclusive Pre-Show Photograph with Cardinal Copia
Glossy 8 x 10 Photo
Ghost Cinch Bag
Exclusive Pair of Ghost Woven Socks
Ghost Mystery Merchandise Item
Commemorative Ghost Tour Laminate

Limited Availability

GHOST VIP INFORMATION

Thank you for your interest in a Ghost VIP Package. *All package elements will be rendered invalid if resold. Name changes will only be issued at the sole discretion of Future Beat. Package customers will receive an email within (3) days prior to show date with VIP details. Information will be sent to the e-mail address provided at the time of purchase.

All packages and package contents are non-transferable; no refunds or exchanges; all sales are final. Please note that the informatin provided at the time of purchase (e-mail and mailing address) is the same information that will be utilied for individual contact requirements.

Future Beat, the artist, tour, promoter, ticketing company, venue or any other affiliated parties are not responsibile for outdated or inaccurate information provided by the consumer at the time of purchase. VIP merchandise items will be distributed at the show. The laminate included in the package does not gain or authorize access into the venue (without ticket), VIP or any backstage areas.

COSTUME INFORMATION

While costumes are encouraged for this event, please note all patrons must be identified at the entrance. If you are coming to the event in costume, please be prepared to remove any masks; if you plan to paint your face, please make sure you can be identified by security. If you cannot be identified, you may be asked to remove your makeup and you may not be able to purchase alcohol if you are over 21. If any part of your costume includes a prohibited item, you will be required to remove it prior to entering the venue. Prohibited items include: toy guns or handcuffs, dust or gas masks, large chains & spiked jewelry. If your costume blocks or impedes the view of another patron, you may be asked to relocate or remove the item for the performance.